Right after read city of bones, i searched everything related, and found that this great title is gonna up on big screen!
BIG FAT YEAH!
i read that news when they found the cast for Clary, and i imagined "wow, it would be hot if Alex Pettyfer played as Jace" He fits much Jace characters and appearance. But the production house for this movie, SCREEN GEM , have different cast for Jace, but i think i'm not disappointed! 8DDD
P.S. all information and requested casts are from
cityofbonesmovie.com
LILY COLLINS as CLARY FRAY
Don't you think the picture resembles Clary, feminine Clary? <333
Okay, maybe Lily is not real red headed, but she's beautiful, and has a strong and stubborn look, perhaps? yeap!
i haven't see her at any movies (and actually i don't know a lot about western actors or actress =p) but i think i'll try Abduction (it has Taylor Lautner too <333) and Snow White.
I read she's a big fan of mortal instrument, and really dedicated herself to the character, even made twitter account with name 'Lily as Clary Fray'. Cute isn't she? xD
All she has to do just coloring his head more reddish, more artistic, and done. she's perfect then <333
JAMIE CAMPBELL BOWER as JACE WAYLAND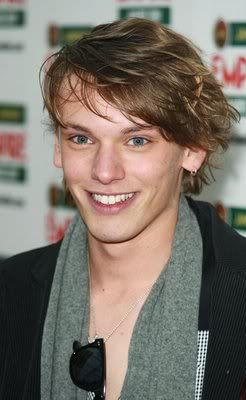 After i read the article i thought "oh yeah, i forgot we have him" xD
He's blonde, a beauty, british *yum*, and Cassie Clare cried when saw his audition, cause he's perfect! Okay, i call it <3
He barely appeared at Twilight (as Caius, he just showed up like just 5 minutes, and didn't really talk or act) so i bought Camelot to saw his acting (just say,it shocked me by the way, with explicit nude and sex scenes, since i raised at Eastern culture where anything related to 'sex' is prohibited and taboo. just thanks God i'm already 25 xD), and he's very good! Arthur is a jerk with authority, and Jamie portrayed it very well.
Too bad a lot of people doesn't like him as Jace and keep pushing Alex to be him. i do trust the professional eyes and how long it took time to chosed him. He just have to re-model and cut his hair (picture above is quite Jace), get a golden eye, drawing black runes all over his body, build more muscles and go Jamie Jace =D
and next is Simon (Lewis).
A lot cast request and cast speculation but it hasn't announce yet who will take 'Simon'. Screen Gem take it seriously so it takes long time because he's also main character.
Simon has some qualities : dark hair, hot nerd (glasses is a key), rocker, cynical face, pale (he's not athletic), and vampiresque look xD
I take some from that bunch who i think fit as Simon =)
i enjoy this so much, because i like brunette and dark hair guys, whiiiir~. i'm sorry if there are a lot biased comments, because..well, biased xD
LOGAN LERMAN
*biased* duh he's 5 years younger than me ><;
I like him at first i saw him as Percy Jackson (Percy Jackson & the Lightening Thief) He's cute and has that 'nerd' impression, just add spects xD.
But i read from some sources he has a lot movies to do and too busy so i don't think he will take Simon.
and also...he's
too cute
i can't imagine he does Simon's bloody-vampire-transformation D= thats awfull
ASHER BOOK
i'm not familiar with Asher Book, hasn't see him at any movie either.
but as his face, he fits more serious and mature Simon =)
gonna add some soon ^^
Mood:
creative